Alumni Association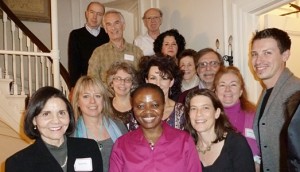 The Ackerman Institute for the Family trains health-care, human-services, educational and private sector professionals to work with families and communities. One of the oldest such institutes in the United States, Ackerman enjoys a pre-eminent reputation of excellence for training programs and innovations in family therapy techniques.
In order to attend Ackerman Training, students must have a masters or doctorate in social work, marriage and family therapy, psychiatry or clinical psychology. Ackerman alumni have participated in a vigorous training program which includes class room work but more importantly clinical hours with families under the supervision of our well-trained faculty. Many of our alums focus their family therapy training in specialized areas; such as health, relational trauma, developing child, and diversity to name a few.
All graduates of the Ackerman Institute Clinical Externship Program are invited to join the Alumni Association. All alumni receive the following benefits:
Email updates from the Ackerman Institute.
The opportunity to send in their news for inclusion in the newsletter and in the website alumni news page.
Admission to the Ackerman ListServ.
Paid membership ($60 per year) in the Alumni Association includes unique, additional benefits:
Free admission (light supper provided) to the Association's annual program of lectures featuring exciting guest speakers and the popular Case Consultations with Ackerman Faculty.
A 10 percent discount on registration fees for Ackerman Institute workshops.
Inclusion in the Alumni Directory on the Ackerman website. To update your information online, click here. If you wish to update by mail, please fill out this form and send it to rtonthat@ackerman.org.
Alumni Newsletters
Read our previous Alumni Newsletters online: