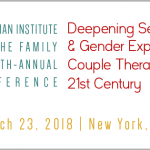 Annual Conference 2018

Overview
 Deepening Sexuality & Gender Expression:
Couple Therapy in the 21st Century
Ackerman's Seventh Annual Spring Conference 
Friday, March 23, 2018
9:30 a.m. – 4:00 p.m.
4.5 CE Contact Hours
Please join us at the Ackerman Institute's Seventh Annual Conference, "Deepening Sexuality & Gender Expression: Couple Therapy in the 21st Century." This year's innovative and bold conference will present a full day of learning to integrate fresh ideas of sexuality and gender expression into your Couple Therapy practice.
In the morning we will experience challenges to contemporary Couple Therapy practice – provocations and queries that will offer us the gift to think anew about our own clinical work.
The morning will feature a keynote by Shannon Sennott, AASECT certified sex therapist, educator, and LGBTQ Family Therapist.
The afternoon will feature original workshops by the distinguished Ackerman faculty and valued colleagues. Conference participants will select from concurrent workshops designed to expand theory and practice in Couple and Sex Therapy.
Sennott is the co-author of the soon to be published, groundbreaking book, "Sex Therapy with Erotic Minorities: Ten Principles of Clinical Support." Her work addresses significant gaps in current Couple Therapy and Sex Therapy practice, enabling couples to negotiate significant relationship challenges and deepen intimacy.
She will focus on what all Couple Therapists need to know in order to integrate sexuality and gender expression into every Couple Therapy case. Using lenses of Narrative Therapy and the Open Dialogue Practices originated in Scandinavia, Shannon will deepen and broaden our understanding of Intersectionality in our clinical practice with couples.
Come prepared to challenge your assumptions and to learn new theory and practices in Couple Therapy!
A panel of highly experienced Couple and Sex Therapists, featuring Suzanne Iasenza, PhD; Ian Kerner, PhD; LMFT; Jean Malpas, LMFT, LMHC; and Luis Ramirez, MSW, LCSW, DSW, will respond to and amplify upon the ideas of Shannon Sennott moderated by Astin Brown, LCSW.
---
To register by phone or mail click here
Keynote
Do couples talk about their sex lives and fantasies with you, their couple therapist? Most couples DO NOT. All too often, they get the message – whether through silence or a swift change of subject – their therapist may not be able to facilitate therapeutic conversations about their sexual landscapes and desires. Sexuality and gender roles, expressions, and experiences are present and alive in every session of couple therapy. Shannon L. Sennott, LICSW, AASECT will focus on ten principles of clinical support to engage therapists' respectful curiosity about sexuality and gender in the context of working with couples. Offering skills that allow therapists to conduct confident inquiry about the intersections of sexuality, sexual practices, intimacy to give language to these often hidden identities, wishes and yearnings, therapists must first examine their own ideas and assumptions. Shannon's focus will be to generate abilities for couple therapists to discern taboos, speak the unspeakable, and create a therapeutic environment filled with the richness of abundant gender expressions and sexualities.
In this keynote address participants will learn to:
Identify specific principles that engage in a conversation about sexuality and gender in the context of working with couples
Understand their own privileged and target identities in the room with clients to better prepare themselves for the work fo this engagement
Engage in creating language related to sexuality and gender roles/expressions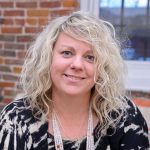 Shannon L. Sennott, LICSW, AASECT certified sex therapist; adjunct faculty, Smith School for Social Work; Founder and Co-Director of Translate Gender, Inc.; Senior Family Therapist at the Institute for Dialogic Practice – Director, Mary Olson; Sex therapist, Northampton Sex Therapy Associates.
Date: Friday, March 23, 2018
Time: 9:30 a.m. – 4:00 p.m.
Tuition/Student Tuition: $140/$80
CE Contact Hours: 4.5
To register by phone or mail click here.
If you are an Ackerman alumni of the Externship or current Ackerman student, please contact the Training Department to register.
Damaly Ferreira
212 879-4900, ext 111
training@ackerman.org
Workshops
These are four concurrent workshops at the Ackerman Conference

A Systemic Understanding of Discrepant Desire in Couples
Presented by Suzanne Iasenza, PhD 
Sexual desire issues are the most frequently reported sexual problems in couple therapy. How do we best understand the vicissitudes of desire over the lifespan of couples including the decline of desire or discrepancies in desire? How can therapists co-create safe therapeutic space to promote change in one of the most elusive and mysterious of human experiences? Suzanne will discuss theory and techniques that help clarify the intrapsychic, interpersonal, developmental, and environmental factors that affect sexual desire. Case material will be presented. 


Challenging Pathological Frames when Working with LGBTQ Clients
Luis Ramirez, MSW, LCSW, DSW
According to the National Alliance of Mental Illness (NAMI) LGBTQ people must confront stigma and prejudice based on their sexual orientation or gender identity. These mental health challenges are exacerbated by the fact that LGBTQ people still face unequal care due to a lack of training and/or understanding by health care providers who still do not always have up-to-date knowledge of the unique needs of the LGBTQ community or training on LGBTQ mental health issues. In addition, LGBTQ people report feeling stigmatized within the mental health system with many reporting having to hide their sexual orientation from those in the mental health system for fear of being ridiculed or rejected. This presentation will help clinicians to gain a better understanding of the history of pathology in clinical approaches working with LGBTQ clients and their families through incorporating intersectionality, as an opportunity to promote social justice and equity. Participants will be introduced to the concept of location of self to encourage conversations around privilege and oppression in the clinical room.

Slowly, Gently, Deeply: Talking About Sex in Couple Therapy
Shoshana Bulow, PhD, LCSW
A major challenge for many couple therapists is incorporating clients' sexual concerns into their conversations. They often worry that they lack the knowledge and skills to open up the discussion and explore these issues. Many fear that feelings about their own sexual partnerships, activities, beliefs, and fantasies will prevent them from being able to confidently address the sexual issues that are brought into the therapy room. And still, others are unsure of how to navigate the gender, religious, racial, social, and economic realities that need to be considered. When therapists explore and address their own discomforts, biases, and anxieties regarding sexual matters, they are better able to create a safe environment in which clients can share and explore aspects of themselves that often feel shameful and lonely. Shoshana Bulow, PhD, LCSW will address this challenge by exploring the professional and personal barriers that many therapists experience and focus on understanding the triggers that can get in the way so comfort and openness can prevail.

Supporting Couples in Transition: Couple Therapy with Transgender Clients and their Partners
Jean Malpas, LMFT, LMHC
Are gender identity, gender expression and sexual orientation stable and unchanged through our lifetime? Can they evolve while we remain in a committed couple relationship? Through clinical video material and overview of research, this workshop will address the role of couple therapists working with couples where one partner, formerly identified as cisgender, comes out as transgender.  How can the therapeutic work affirm both partners' sense of self, sexual orientation and promote relational transition, the process of transitioning as a couple? Jean Malpas, LMFT, LMHC will discuss conceptual distinctions between sexuality and gender identity and examine the premises of gender-affirming couple therapy.
Schedule & FAQs
Conference Schedule
9:00 a.m. – 9:30 a.m.
Registration
9:30 a.m. – 12 p.m.
Morning Plenary
Keynote Address, "Deepening Sexuality and Gender Expression:  Couple Therapy in the 21st Century" with Shannon Sennott, LICSW, AASECT
&
Panel Discussion with Suzanne Iasenza, PhD; Ian Kerner, PhD; Jean Malpas, LMFT, LMHC; and Luis Ramirez, MSW, LCSW, DSW moderated by Astin Brown, LCSW
12:00 p.m. – 1:45 p.m.
Lunch Break & Book Fair
1:45 p.m. – 3:45 p.m.
Concurrent Afternoon Workshops
 3:45 p.m. – 4:00 p.m.
Book Fair


---
FAQs
Location
UJA Federation
130 East 59th Street
7th Floor Conference Center
New York, NY 10022

Parking
Imperial Parking – Requires stamp for discount
212-308-8291
150 East 61st Street
$18 – 12 hrs/ $28 – 24hrs
$10 extra for SUV
Bridge Parking – No stamp required
212-758-4548
340 East 59th Street
$17 early bird in by 11 a.m. out by 8 p.m.
$10 extra for SUV
Icon Parking – Requires stamp for discount
212-755-8678
150 East 58th Street
$23 – 12 hrs/$33 – 24 hrs
$10 extra for SUV