Expanding Sexual Frames in Theory and Practice in Couples Therapy
Sexuality issues are often the elephant in the room in couples psychotherapy. Some couples therapists feel unprepared to delve into sexual issues because they have not had sufficient training in human sexuality. Others feel challenged by the complexities and mysteries of common presenting problems such as the effects of trauma on sexuality or the influence of desire on couple sexuality. Suzanne Iasenza, PhD will provide expansive models of sexual response, how to conduct a therapeutic sexual history, and co-creating expansive therapeutic frames that include new approaches to standard sex therapy techniques. The presentation will use case material to illustrate the integration of systems, psychodynamic and cognitive behavioral thinking as well as the nuances of working with same sex and gender variant couples.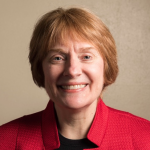 Suzanne Iasenza, PhD, is faculty at the Institute for Contemporary Psychotherapy and Psychoanalysis and the Postgraduate Program in Couples and Family Therapy of Adelphi University's Derner Institute. She is co-editor of Lesbians and Psychoanalysis: Revolutions in Theory and Practice (1995) and Lesbians, Feminism, and Psychoanalysis: The Second Wave (2004). Her most recent article entitled: "What is Queer About Sex: Expanding Sexual Frames in Theory and Practice" was published in the journal Family Process. She is a member of the Ackerman Couples Therapy Project along with Michele Scheinkman, LCSW, Jean Malpas, LMHC, LMFT and Peggy Papp, LCSW.
Date: Friday, January 27, 2017
Time: 10 a.m. – 4 p.m.
Tuition: $135
CEUs for NYS: 6
CEUs for NASW – CT: 5

The Ackerman Institute for the Family SW CPE is recognized by the New York State Education Department's State Board for Social Work as an approved provider of continuing education for licensed social workers #0052.
If you would like to mail or fax in your application form, download a printable application here.
If you are an Ackerman alumni of the Externship or current Ackerman student, please contact the Training Department to register.
Damaly Ferreira
212 879-4900, ext 111
training@ackerman.org