This presentation is based on a book of the same title written by the presenter, analyzing how practitioners can use psychotherapy as a healing mechanism, focusing on the intersection of gender, power, and social justice within the global context. The concept of social justice is examined before examining men's and women's issues from biological, sociological, contextual, and ecological perspectives. The presentation covers individual, couple, and family therapy and training and supervising for heterosexual and homosexual individuals from a social justice standpoint.
Learning Objectives:
To apply concepts to privilege client voices and promote justice in gendered relationships
To apply concepts to manage the impact of socio-political issues in therapeutic practices
To engage the audience to think globally and view all family relationships from a global social justice lens
Presenter: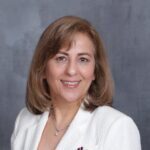 Manijeh Daneshpour, PhD is the systemwide couple and family therapy director and distinguished marriage and family therapy professor at Alliant International University in California. She is a licensed marriage and family therapist with nearly three decades of academic, research, and clinical experience. She is from Iran and identifies herself as a third-wave feminist. Daneshpour's main research areas, publications, and presentations have centered on gender, multiculturalism, social justice, postmodernism, third-wave feminism, and premarital and marital relationships.
October 27, 2023
10:00 am - 1:00 pm
Location:

Online Event
Description:

A link will be emailed to you one day before the event. Online events are held in Eastern Standard Time (EST).