Delilah Seligman
Interim Coordinator of Training & Capacity Building, Gender & Family Project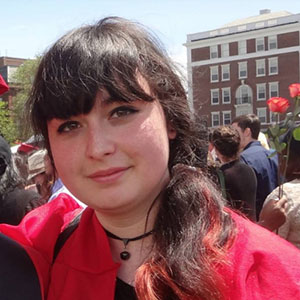 Delilah Seligman, LMSW, (she/her/hers) is a Training & Capacity Building Associate with the Gender & Family Project at the Ackerman Institute for the Family. Originally from Boston, MA, Delilah attended Wesleyan University in Middletown, CT, graduating in 2016 with a BA in Psychology. The following fall, she relocated to NYC in order to begin her training as a licensed social worker at the Columbia University School of Social Work, receiving her MSW degree in 2018.
Delilah has worked with various LGBTQ+ nonprofit organizations, including PFLAG Greater Boston, The Center, and the Sylvia Rivera Law Project, focusing on psychoeducation; community organizing and activism; program and materials development; communications; and capacity building. More recently, she has been engaged in political advocacy with groups such as NYTAG and the NYS Gender Diversity Coalition, working towards the liberation of the transgender, gender non-conforming, and non-binary (TGNCNB) community, as well as communities of color and those struggling under oppression.
In her spare time, Delilah enjoys performing music with various DIY punk bands around the East Coast, as well as expressing herself creatively through art and songwriting. She is also an avid gamer and enjoys discussing pop culture and media. Delilah's experiences as a multiracial transgender woman have inspired her to fight injustice for all marginalized communities, and through her advocacy, clinical, and educational work, she hopes to create sustainable social change for those most impacted by oppression.
---