Nadia Swanson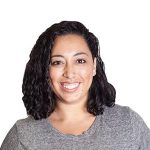 Nadia Swanson, LMSW, is the Coordinator of Training and Capacity Building at The Ackerman Institute's Gender and Family Project.
Nadia received her Bachelor's Degree in Dance and Anthropology from Hofstra University and her MSW from Rutgers University. She has worked domestically and internationally for organizations such as American Friends Service Committee, UNICEF India, SCO Family of Services,The Child is Innocent, GLSEN and The Ali Forney Center(AFC). In her work at AFC she served as an Intensive Case Manager and then as the Coordinator of Training and Advocacy. Nadia had the opportunity and pleasure of supervising the drop in center, providing trainings locally and nationally on LGBTQ youth who are experiencing homelessness, supervise the Youth Advocate program and work on campaigns such as Raising The Runaway and Homeless Youth Age in NYC.
Nadia serves as a leader of The Radical Social Work Group, which has shaped her has a social worker. She is passionate about working within her LGBTQ community and communities of color to empower leadership. She uses her experience in direct service to drive her work in program development and training. Nadia is committed to centering the communities we work to serve in order to create programs that are effective and affirming.
nswanson@ackerman.org
212.879.4900 ext. 116
---