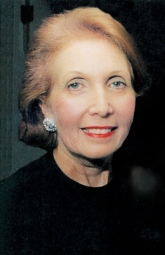 Alice K. Netter served on the Ackerman Institute for the Family's board for over 25 years. With a strong interest in psychology and family health, she was a leading force behind the fundraising efforts of the Institute. Prior to Co-Chairing the Tribute to Families Gala, Alice chaired the Ackerman Institute's Theatre Benefit for over 10 years and raised significant funds vital to Ackerman's clinic, training scholarships, and general fund.
Dedicating her life to philanthropy, she has served as a Trustee of the Continuum Health Partners and Beth Israel Medical Center for nearly a decade. She was key to the development of the Alice and Richard Netter Simulation Training Center at Beth Israel, giving hospital residents and surgeons the ability to continuously practice and sharpen their medical skills.
Alice was an avid gardener and collector of antique American folk art. She attended Skidmore College, and entered into the American folk art business in the early 1980s. She was married to her husband, Richard for over 40 years and was the proud mother of two daughters and grandmother to three grandchildren.