Clinic Therapist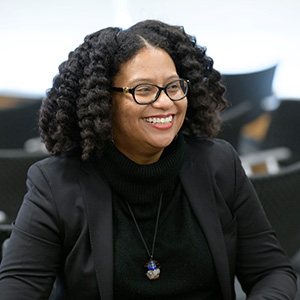 Chantelle Brown is a Clinic Therapist at the Ackerman Institute for the Family. She is an alum of the Ackerman Institute's Clinical Externship Program in Family Therapy and Social Work and Diversity Program. She is a graduate of the Silberman School of Social Work at Hunter College and has special training in mindfulness and compassion-based psychotherapy from the Nalanda Institute for Contemplative Science.
Prior to joining Ackerman, Chantelle was a clinical social worker at Memorial Sloan Kettering Cancer Center (MSK) in New York City, where she supported individuals and families affected by illness. Chantelle trained in a post-graduate clinical fellowship in oncology social work and palliative care at MSK, and is now a clinical social worker who specializes in supporting patients and their families at end-of-life. She has experience presenting on the social determinates of health and clinical implications of race-based trauma on patients and families navigating healthcare systems.
Chantelle lives in Brooklyn with her partner where she enjoys spending time with family and friends at the Brooklyn Botanic Garden and Prospect Park.