Summer Clinical Practicum
Ackerman's Summer Clinical Practicum is an opportunity for mental health professionals to develop clinical skills in family therapy through live family interviews complimented by lecture, discussion, and case studies.
Trainees will conduct interviews as co-therapists while working as part of a clinical consultation team led by experienced Ackerman faculty. This one-month program focuses on learning relational interviewing skills and systemic approaches to change.
This course is open to social workers, marriage and family therapists, mental health counselors, psychologists, and psychiatrists. Class size is limited to six trainees.
Faculty: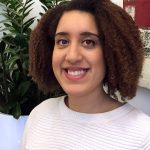 Marissa Moore, LMHC, is a faculty member at the Ackerman Institute where she currently teaches an advanced clinical seminar. She is also a member of The Justice Project, a project that provides therapeutic support to families involved with or impacted by the criminal justice system. Marissa maintains a private practice in Brooklyn and a practices meditation and mindfulness daily. She brings this practice into her therapeutic work.
Course Schedule:
May 30 and 31, June 6, 11, 13, 15, 18, 20, 21, 25, 27 and 29
9:00 AM–3:00 PM
CE Contact Hours for NASW – CT: TBA
For more information, contact:
Damaly Ferreira
212 879-4900, ext 111
training@ackerman.org