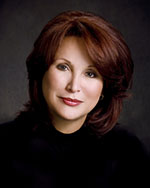 New York (NY) – Gisselle Acevedo has been named as the new President and CEO of the Ackerman Institute for the Family. Ms. Acevedo is the former President and CEO of Para Los Niños, an educational and social service organization which provides services to children and families from some of Los Angeles's most challenged communities.
Martha Fling, Chair of the Ackerman Board of Directors, stated, "The Ackerman Board is delighted to welcome Gisselle Acevedo as our next leader. Her experience, vision, enthusiasm, and commitment to the well-being of children and healthy families will move Ackerman forward with its training, research and programs for the community.
During her tenure at Para Los Niños, in Los Angeles, Ms. Acevedo was responsible for the development of charter schools, early childhood education centers, mental health and social services for over 10,000 children and their families with an annual budget of $27 million. She has an extensive background and experience in the corporate and philanthropic sectors including The Los Angeles Times, AT&T Broadband and the Los Angeles MTA. She also served as the President of the Los Angeles Times Foundation.
"I am incredibly excited about having the opportunity to work with the Ackerman Institute for the Family's dedicated group of family therapists, innovative researchers and leading edge faculty. I have spent the better part of my professional career supporting diverse families and communities and look forward to continuing the important work of the Institute," she noted.
Ms. Acevedo holds a Master's degree in Special Education, a law degree from Loyola Law School, and she is a licensed Marriage and Family Therapist. She was born in Costa Rica and immigrated to the United States with her mother at the age of 12. She is married to Suzanne Curtis, an attorney and they have one daughter, Noelle.
Since 1960, the Ackerman Institute for the Family has achieved national and international prominence for the development of innovative models of family therapy, professional training, and community programs for families facing major life challenges. One of the first training institutes in the United States committed to family functioning and family mental health, Ackerman is dedicated to helping families at all stages of family life.
Contact:
Adriana Londono
Director of Development
alondono@ackerman.org
(212) 879-4900, ext. 130