Moving Families Forward Gala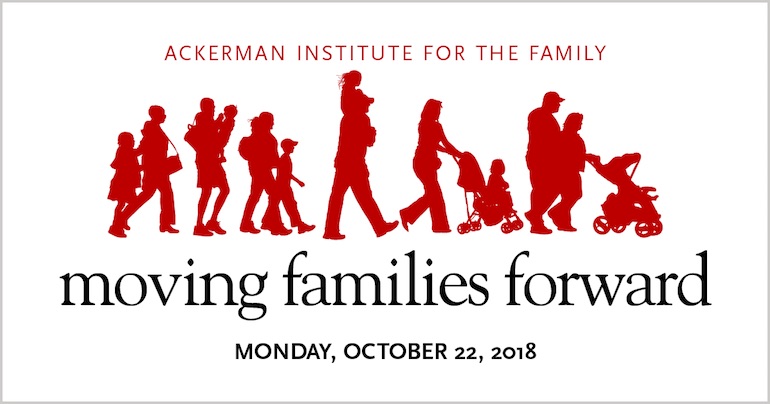 Support children and families at the Ackerman Institute for the Family's Annual Moving Families Forward Gala.
This event is sold out. If you would like to join the wait list, please contact:
Buckley Hall Events
(914) 579-1000
ackermangala@buckleyhallevents.com
You can still make a difference – make a contribution to our fundraiser below.
Date & Time:
Monday, October 22, 2018
6:00 pm | Cocktails & Silent Auction
7:00 pm | Dinner & Award Ceremony
Location:
JW Marriott Essex House
160 Central Park South
New York, NY 10019
[View Map]
Information / Inquiries:
Buckley Hall Events:
Ph. (914) 579–1000
ackermangala@buckleyhallevents.com
Gala Contributions
Gala Contributions:
Honorees
Honorees:
Lois Braverman
Innovative Leadership Award
Ackerman Institute President Emeritus, Lois Braverman will be recognized for providing tireless dedication, leadership, and inspiration to the organization for over 12 years.
Cynthia McFadden
Family Advocate Award
Cynthia McFadden is an award-winning journalist and Senior Legal and Investigative Correspondent for NBC News. She will be honored for shining a national media light on key issues including mental health issues affecting families across the country.
Arnold Syrop
Distinguished Service Award
Arnold Syrop is one of America's most respected architects and is responsible for the design of Ackerman's new, state-of-the-art training facility in the Flatiron District. He remains one of Ackerman's most dedicated members of the board of directors.
Gala Committee
Gala Co-Chairs
Leslie Roberts
Deborah Werner
Honorary Co-Chairs
Martha Fling
Alice K. Netter
Gala Planning Committee
Vicky Kahn
Gisella Lemos
Jeanette Monninger
Emilie Dubois Poteat
Nicole Poteat