Moving Families Forward Gala

Support children and families at the Ackerman Institute for the Family's Annual Moving Families Forward Gala on Monday, October 22nd.
Date & Time:
Monday, October 22, 2018
6:00 pm | Cocktails & Silent Auction
7:00 pm | Dinner & Award Ceremony
Location:
JW Marriott Essex House
160 Central Park South
New York, NY 10019
[View Map]
Information / Inquiries:
Ph. (914) 579–1000
Ackermangala@Buckleyhallevents.com
Tickets & Tables
Gala Tickets & Tables:
Journal Ads
Journal Ads (Print and Digital Opportunities):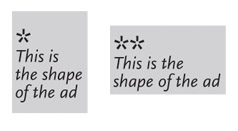 All ads are black and white and should be sent as high resolution PDFs to Ackermangala@Buckleyhallevents.com. Deadline for receipt of ads is October 8, 2018.
Ad sizes below are WIDTH x HEIGHT.
If you would like to help us with the fundraising success of our Moving Families Forward Gala, click here to make a contribution.
Make a Contribution
Gala Contributions:
Gala Committee
Meet our Gala Co-Chairs
Leslie Roberts
Deborah Werner
Honorary Co-Chairs
Martha Fling
Alice K. Netter
Gala Planning Committee
Vicky Kahn
Gisella Lemos
Jeanette Monninger
Emilie Dubois Poteat
Nicole Poteat