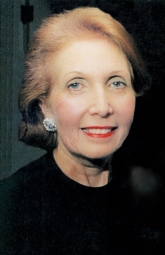 Dear Ackerman Community,
It is with great sorrow that the Ackerman Institute for the Family shares the peaceful passing of our esteemed member of the Board of Directors, Alice K. Netter, at her home in East Hampton on July 22, 2022.   
A lifelong philanthropist, Mrs. Netter always had a keen interest in mental health, families, and diversity, serving on the board for over twenty-five years. She was a dynamic leader in the Institute's fundraising efforts. She conceived of and led Ackerman's Theatre Benefit for over 10 years and went on to co-chair the Moving Families Forward Gala until 2017. Both efforts raised significant funds for Ackerman's clinic, training scholarships, and general fund, along with her ardent support of the Gender & Family Project.
We are immensely grateful and indebted to Mrs. Netter, and she will be deeply missed.  We extend our deepest condolences to her family and friends. 

Martha Fling
President & CEO