Dear Ackerman Community,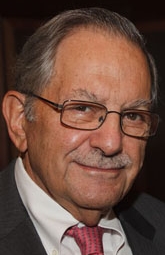 It is with great sorrow that I share the peaceful passing of our distinguished member of the Board of Directors, Arthur Maslow, on February 13, 2021, at his home in New York City.
Arthur Maslow was a pillar the Ackerman Institute for the Family for more than 40 years. After completing the program as a student, Mr. Maslow joined the Institute as Director of Administrative Services and as a member of the faculty. Mr. Maslow met his late wife, Carol Maslow, at the Institute and they married in 1979.
Mr. Maslow served on the Institute's Board of Directors as its Chairperson from 1999 to 2003. In 2007, he became Trustee Emeritus. Mr. Maslow spearheaded diversity in Ackerman's administration, and it was his vision that created and funded the Social Work and Diversity Program in 1992. Mr. Maslow's scholarship program continues to support diverse young therapists training at the Ackerman Institute. He was also a longstanding trustee of JCCA. He summed up his dedication and commitment to families, expressing "Family therapy works because it is reality. The greatest support a child can get is from the family".

Arthur loved Ackerman, and we are all better for his generosity of support and time. I always jumped at the invitations for lunch with him at his home. The menu never varied (scrambled eggs, bacon, and tomatoes), nor did his willingness to provide sharp and humorous counsel. He will be missed deeply.

Our hearts and prayers go out to his family at this difficult time.

Martha Fling
President & CEO