Many of our clients come in with long lines of trauma. Their histories reflect repeated incidents of trauma at the individual and collective level, which makes their pain deeply layered and old. Our clients also come with a will and determination to break the cycles that have plagued them, their families, and their communities for generations.
This workshop will provide an overarching view of intergenerational trauma patterns and offer specific holistic clinical methods for addressing this type of pain. Generational trauma is known to be a wounding of the soul, meaning a wounding of the mind, body, and spirit. In this workshop, you will learn specific methods for addressing lineage pain at all three levels of wounding. We will explore clinical examples and dive into experiential practices to deepen your learning. Bring writing materials and an item that brings you comfort, as we take a deep dive into deep trauma.
Learning Objectives:
To learn the fundamentals of intergenerational trauma and the levels of emotional pain associated with it
To learn how holistic methods of healing target emotional pain connected to lineage trauma
To learn how to apply therapeutic practices that specifically address intergenerational trauma
Presenter: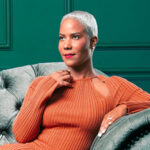 Mariel Buqué, PhD is an Afro-Dominican, Columbia University-trained Psychologist, intergenerational trauma expert, and the author of the book Break the Cycle: A Guide to Healing Intergenerational Trauma a book that focuses on healing wounds of intergenerational trauma. Her clinical framework is holistic and infuses ancient and indigenous healing practices into a modern, comprehensive therapeutic approach. She additionally provides healing workshops to Fortune 100 companies including Google, Twitter, Capital One, and Facebook and lectures within the psychology department of Columbia University. Buqué is widely sought out for her clinical expertise and trauma healing approach and has been featured on major media outlets including The Today Show, The Real, Good Morning America, and ABC News. She has been named as a School of Greatness's 100 Greatest People Doing Good in 2022. Her work can be found on www.drmarielbuque.com.
June 30, 2023
1:00 pm - 4:00 pm
Location:

Online Event
Description:

A link will be emailed to you one day before the event. Online events are held in Eastern Standard Time (EST).
We're sorry, but all tickets sales have ended because the event is expired.