"We can't fix what can't be fixed, but we can be the witness who supports the healing capacity we all hold within." Gabor Maté (2021)
Couples in which one partner suffered sexual abuse in childhood often encounter unique difficulties with physical contact, intimacy, sexuality, communication, and trust. Their relationship dynamic may be marked by reenactments of past traumatic relational patterns. This workshop will present a clinical practice that is founded on the assumption that establishing the witnessing lacked during the events in childhood can break the traumatic reenactments in adulthood, and spur recovery.
Scheinkman & Fishbanes' model of the Vulnerability Cycle (VC) will be introduced as providing a perspective to working with these couples. VC conceptualizes couples' presenting problems as embedded in a reciprocal interactional/emotional pattern that contributes to the couples' derailment. The couples' entrapment in such a pattern is due to the activation of vulnerabilities and survival strategies from their past traumas. These are embedded intrapsychically, and complicate the couple's existing modes of relating.
The workshop will also explore the concept of "dissociative collusion" as a helpful theoretical and clinical tool, and describe specific clinical practices inspired by Narrative Therapy that establish a context for witnessing within the couple therapy sessions. Case presentations will be used to demonstrate the techniques and illustrate how this approach is widely applicable to couples dealing with complex trauma and its effects.
Learning Objectives:
To name four traumatic reenactment patterns that these couples may display
To explain how the couple's traumatic entrapment reflects the activation of vulnerabilities and survival strategies from their past
To explain the importance of the "lack of witness" at the time of childhood trauma, and its effect on the reenactments in the couple's adult life
To explain how establishing the witnessing lacked during the traumatic events in childhood can break the traumatic reenactments in adulthood
Presenter: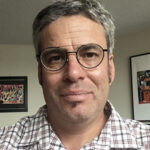 Ron Nasim, Ph.D., is a clinical psychologist and certified couple and family therapist from Israel. He is a former coordinator and supervisor for the couple and family therapy program at LOTEM clinic for sexual abuse survivors, Sourasky Medical Center at Tel Aviv. Ron lectures and supervises at the Academic College of Tel Aviv-Yaffo, Tel-Aviv University and the Barcai Institute as well as at the Adelphi University couples program. His main focus of interest and research is the impact of trauma on couples and psychotherapy integration.
Course Policy:
For the in-person presentation of this course, proof of vaccination is required and will be checked upon arrival. Masks are required to be worn in all common areas of the Ackerman Institute. Masks are optional inside the workshop conference room.
If you, or any of your close contacts, have any of the COVID symptoms outlined by the CDC, please follow the CDC guidelines for isolation and quarantine.
Course time includes a one-hour break for lunch. Food will not be provided.
March 3, 2023
10:00 am - 4:00 pm
Address:
936 Broadway, 2nd Floor
,
New York
,
New York
,
10010
,
United States
Description:

936 Broadway, 2nd Fl.
New York, NY 10010
212-879-4900