Join us for Ackerman's free webinar series for parents and caregivers. Created by family therapy experts, these webinars are designed to help parents and caregivers to support their child's mental health across a diverse range of subjects. Webinars are free to attend and will be held online via Zoom.
---
Program Description:
Boys growing up today receive conflicting messages about anger and aggression. On one hand, they are told by parents and teachers to resolve conflicts peacefully and avoid confrontations with their peers, siblings, and parents. On the other, many are exposed to video games, music, and social media that celebrates male aggression.
In this workshop, Dr. Peter Fraenkel will share his experience of over 30 years working with boys and teens who are sent to therapy because they have frequently acted angrily or aggressively. A variety of techniques will be shared that engage youths to modulate and express their upset emotions, to handle bullies, and to get their legitimate needs met without undue force. A key practice is to honor their "firepower," but to help them make better decisions about when and with whom to use it.
Presenter: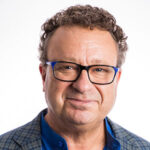 Peter Fraenkel, PhD is Associate Professor of Psychology at City College of New York; former faculty at the Ackerman Institute for the Family and NYU Medical Center; and is in private practice in New York City. He has published on a wide range of topics, including integrative approaches to therapy; is the author of
Last Chance Couple Therapy: Bringing Relationships Back from the Brink
(2023, Norton) and
Sync Your Relationship, Save Your Marriage: Four Steps to Getting Back on Track
(2011, Palgrave-Macmillan). Fraenkel lectures and conducts therapist trainings internationally. He received the American Family Therapy Academy's 2012 award for Innovative Contribution to Family Therapy. He is on the Board and a former Vice President of AFTA, and a reviewer for several family therapy journals.
November 8, 2023
12:00 pm - 1:00 pm
Location:

Online Event
Description:

A link will be emailed to you one day before the event. Online events are held in Eastern Standard Time (EST).