This one-day training will be presented in-person at the Ackerman Institute. Registration is limited to 10 participants, therefore we are offering a selection of multiple dates. 
Course time includes a break for lunch. Food will not be provided.  
---
As therapists, we often avoid and miss opportunities to talk about money due to our own discomfort around the meaning of money and class in our families and society. This discomfort can manifest in setting fees and discussing billing, especially when we work with clients with less or more financial resources than ourselves.
This workshop will help therapists explore the beliefs we hold and the premises we have internalized around when and how we speak about money and how it relates to social standing, class and internalized feelings of superiority and inferiority. Participants will be guided in exploring the thread of money and class identity through a multigenerational emotional mapping of patterns in their family history with the goal of developing fluidity and comfort with guiding one's self and clients to a deeper understanding of the meaning of money in our lives.
Learning Objectives:
Invite conversation and exploration of money and meaning in a neutral safe environment
Follow the thread of money and money/class identity through a multigenerational mapping of patterns, family histories and class identities
Get greater understanding of one's money identity to offer a fuller location of self around class and economic circumstances
Feel more at ease in setting fees with clients
Presenters: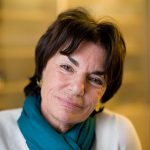 Judith Stern Peck, LCSW, is a prominent family therapist and family business consultant. She is the Director of the Money and Family Life Project at the Ackerman Institute for the Family, was a participant in the consultant referral service on the Council on Foundations' Family Foundation Services department, and received "Fellow" status by FFI, the professional organization for Family Business Consultants after her 20+ years of experience working with family businesses and family foundations. Judy's received a BA from Finch College, an MSW from Yeshiva University, and received a post-graduate certificate in family therapy from the Ackerman Institute for the Family.
Betsy Witten, JD, graduated from Columbia Law School and went on to work in several fields as an attorney, a social justice advocate and Program Director at a national foundation. She now oversees her own family's family office managing investments, stewardship and family governance.
September 28, 2023
10:00 am - 4:00 pm
October 25, 2023
10:00 am - 4:00 pm
December 1, 2023
10:00 am - 4:00 pm
January 18, 2024
10:00 am - 4:00 pm
Judith Stern Peck, LCSW and Betsy Witten, JD
Location:

Ackerman Institute for the Family
Address:
936 Broadway, 2nd Floor
,
New York
,
New York
,
10010
,
United States
Description:

936 Broadway, 2nd Fl.
New York, NY 10010
212-879-4900