Black/African Americans represent 20-25% of the American Muslim community; comprising nearly 60% of US-born converts. However, Black Muslims experience intersectional or "acute" invisibility as they are not perceived as typical members of the American Muslim community (with Arab and South Asian Muslims viewed as the norm) or of the Black community (in which Christianity is the dominant religion). They also experience marginalization due to anti-Black sentiment within the Muslim community. The barriers to healing and wellness this community experiences are not well-documented, yet stressors are evident when one takes into consideration racial discrimination, intra-Muslim racism, religious stereotyping and profiling, cultural taboos associated with seeking professional help (for a variety of health-related issues), and historical trauma stemming from American slavery.
In this workshop Kameelah Mu'Min Rashad, MS, MRP, MEd, will provide participants with information regarding the unique and divergent experiences of Black Muslims and how these experiences influence their mental health and access and engagement in psychotherapy. This workshop will also highlight ways in which the community draws on spiritual and cultural resilience to resist oppression and integrate religious and racial identity.
Interactive didactic, experiential exercises, role-playing and case presentations will be used to demonstrate the pivotal role mental health professionals can play in helping families cope with the stress and anxiety of environmental stressors (racism, discrimination, and harassment) which may exacerbate pre-existing vulnerabilities.
Learning Objectives:
List 2-3 stressors which impact individual and family wellbeing and discuss barriers to seeking counseling and behavioral health services
Describe 2-3 effective clinical interventions with Black/African American Muslim children, youth and families
Identify 2-3 faith-based, culturally competent resources offering valuable assistance to the Black/African American Muslim community
Presenter: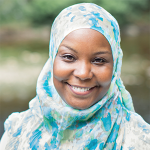 Kameelah Mu'Min Rashad, MS, MRP, MEd, is the Founder & President of the Muslim Wellness Foundation and the Interfaith Fellow for Spirituality, Wellness & Social Justice at the University of Pennsylvania.
March 22, 2019
10:00 am - 4:00 pm
Kameelah Mu'Min Rashad, MS, MRP, MEd
We're sorry, but all tickets sales have ended because the event is expired.