The contemporary ubiquity of trauma is such that it has quickly become the means by which modern citizens gain access to a lexicon and grammar titrated to assumptions about suffering, mental illness, victimhood, compensation, intergenerational pain, justice, healing, and wellbeing. In this sense, trauma has never been an exclusively clinical affair; instead, it is a world-shaping principle, more than event or experience, and more than pathology. It is a way that urban settlements are in response to the material involutions of an unwieldy world. Reframing trauma as a machine of modern subjectivity asks us to revisit and carefully consider our devotions to "healing" and "justice", however qualified. In this workshop, Dr. Bayo Akomolafe convenes therapeutic undergrounds that exceed the imperatives of healing, and invite other kinds of cartographies to take flight.
If you sense that the conceptual ubiquity of trauma wields too much power and imprisons political openings for wellbeing, this workshop might be for you. Some of our un/learning objectives are:
Learning Objectives:
To trace a genealogy and historic cartography of trauma as wayfinding ritual
To think through animist, posthumanist, decolonial and indigenous/processual-relational cosmologies to expand the conversation about subjectivity
To disrupt the linear constancy and exclusivity of healing/justice as singular outcomes, queer cures, and build exploratory communities around cracks/openings/disability
Presenter: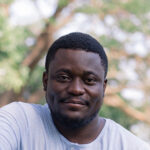 Bayo Akomolafe, PhD, rooted with the Yoruba people in a more-than-human world, is the father to Alethea and Kyah, the grateful life-partner to Ije, son and brother. A widely celebrated international speaker, posthumanist thinker, poet, teacher, public intellectual, essayist, and author of two books, These Wilds Beyond our Fences: Letters to My Daughter on Humanity's Search for Home (North Atlantic Books) and We Will Tell our Own Story: The Lions of Africa Speak. Dr. Akomolafe is the Founder of The Emergence Network and host of the online postactivist course, 'We Will Dance with Mountains'. He currently lectures at Pacifica Graduate Institute, California and University of Vermont, Burlington, Vermont. He sits on the Board of many organizations including Science and Non-Duality (US) and Local Futures (Australia). In July 2022, Dr. Akomolafe was appointed the inaugural Global Senior Fellow of University of California's (Berkeley) Othering and Belonging Institute. He has also been appointed Senior Fellow for The New Institute in Hamburg, Germany.
March 10, 2023
10:00 am - 1:00 pm
Location:

Online Event
Description:

A link will be emailed to you one day before the event. Online events are held in Eastern Standard Time (EST).
We're sorry, but all tickets sales have ended because the event is expired.