Jean Malpas, LMHC, LMFT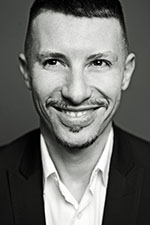 Jean Malpas, LMHC, LMFT was trained by leading psychologists and family therapists in Belgium, France and the United States. After graduating from Brussels University with a master's degree in clinical psychology and psychotherapy, he attended NYU's Psychology Department on the prestigious Belgian American Educational Foundation Scholarship. He completed his post-graduate training at the Ackerman Institute for the Family.
Jean is the director of the Gender and Family Project at the Ackerman Institute for the Family, Director of International Training, and psychotherapist in private practice in New York City. He has presented on issues of gender, sexuality, addiction, couple and family therapy in the US, Israel, Chile, Argentina, Brazil, Belgium and Canada. He has published several articles and chapters on his work with Lesbian, Gay, Bisexual and Transgender individuals, couples and families, including the Family Process article "Between Pink and Blue: A Multidimensional Approach to Gender Nonconforming Children and their Families." Jean is on the editorial board of the Journal of LGBT Family Studies. Jean's leadership has been recognized by the first Early Career Award of the American Family Therapy Academy. The Gender and Family Project was awarded the first Family Process Institute Early Career Training Grant.
---