Deconstructing the Gender Binary with Sexual and Gender Minority Clients
Sexual and gender minorities often seek out psychotherapists because they are struggling with stigma—that which they experience from society, family, and peers, and that which they experience internally. This stigma, also called minority stress, has a significant impact on the mental health of sexual and gender minorities, who are at higher risk for depression, anxiety, substance use, and suicidality.
In this workshop, participants will explore and unpack an underlying cause of sexual and gender minority stress—the gender binary. The gender binary is a social construct that encompasses biological sex, gender identity, gender expression, and attraction. It is a powerful discourse that operates in the background of our daily lives and is at the source of sexual and gender-based prejudice.
Through video demonstrations, experiential activities, small and large group discussion, and role-plays, participants will learn to identify the gender binary in real world and clinical examples and have powerful conversations that deconstruct and dismantle the impact of the binary on their lives and the lives of their clients.
Learning Objectives:
Describe the relationship between minority stress and sexual and gender minority (SGM) health disparities
Identify ways the gender binary creates and maintains sexual and gender-based minority stress
Engage in conversations to deconstruct the gender binary in order to reduce minority stress
Presenter: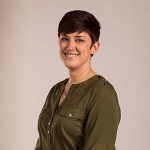 Erica E. Hartwell, PhD, LMFT, is the Clinical Director and an Associate Professor in the Department of Marriage and Family Therapy at Fairfield University. She is the founding Program Director of the Sexual and Gender Minority Mental Health Certificate to be offered online at Fairfield University this summer. In 2018, she created Pride & Wellness, a health and wellness fair for the LGBTQ community in Fairfield County. Dr. Hartwell is currently the President of the Board of Directors at Triangle Community Center in Norwalk, CT and the Chair of the AAMFT Queer and Trans Advocacy Network.
---
Date / Time:
Friday, March 1, 2019
10:00 am–4:00 pm
Continuing Education:
5 CE Contact Hours
---
Register Online:
Questions?
Visit our Workshop FAQ Page
.
---