Healing the Healer: The Restorative Power of Mindfulness, Compassion, and Therapist's Use-of-Self
In The Way of the Bodhisattva, the 8th-century Indian Buddhist monk and scholar Shantideva wrote, "For all those ailing in the world/Until their every sickness has been healed/May I myself become for them/The doctor, nurse, the medicine itself." The great 20th-century feminist writer and activist Audre Lorde famously stated, "Caring for myself is not self-indulgence, it is self-preservation, and that is an act of political warfare."
This workshop integrates the spirit of these two passages to create a day-long experiential and reflective healing space for therapists working within cultural contexts rife with personal and collective traumas of systemic oppression and colonization in the United States. We will hold a supportive and experiential space that allows therapists to give voice to their own lived and complex experiences of systemic oppression and marginalization, privilege, and power, and to increase their own internal resiliency through methods of self-preservation. Through mind-body practices and contemplative frameworks that center healing and growth in the face of sociopolitical trauma, we will explore how therapists can draw upon the wisdom of their own experiences to care for the self, stay in a position of agency, and actively remain in compassionate, caring relationship with others.
Learning Objectives:
Deepened understanding of therapist's relationship to systemic oppression, how it shows up for them personally and within the clinical space, and how to courageously hold one's own vulnerabilities and strengths in order to remain in a position of agency and choice.
Experiential understanding of how contemplative and mind-body practices can support the therapist in touching into and gently staying with experiences of difficult emotions related to experiences of marginalization or devaluation, such as anger, rage, or anxiety, and actively draw upon the therapist's use-of-self as a pathway into deepened compassionate action and healing presence.
New or expanded skill set of mind-body interventions that can be used in-vivo during sessions with clients and in personal meditation practice that help the therapist mine their own internal resources and wisdom to attune to their moment-to-moment experience and practice compassion as a restorative and growth-promoting resource for self and others.
Presenters: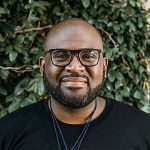 Lama Rod Owens, MDiv., is an author, activist, and authorized Lama (Buddhist Teacher) in the Kagyu School of Tibetan Buddhism and is considered one of the leaders of his generation of Buddhist teachers. He holds a Master of Divinity degree in Buddhist Studies from Harvard Divinity School and is a co-author of Radical Dharma: Talking Race, Love, and Liberation. Owens is the co-founder of Bhumisparsha, a Buddhist tantric practice and study community and has been published and featured in several publications including Buddhadharma, Lion's Roar, Tricycle, The Harvard Divinity Bulletin and has offered talks, retreats, and workshops in over 7 countries. Lama Rod facilitates undoing patriarchy workshops for male identified practitioners in Brooklyn and Boston. Lama Rod's next book project will explore transformative anger and rage and is due out June 2020.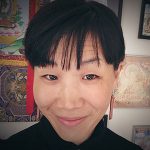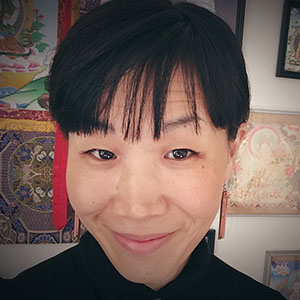 Helen H. Park, LMSW, MFA., is a clinical social worker and family therapist specializing in integrative, anti-oppressive, healing centered approaches for children, couples, and families. Helen currently serves as Director of the Contemplative Psychotherapy Program at the Nalanda Institute for Contemplative Science. She is also an Intake Coordinator, Postgraduate Extern, and Extern Associate with the Foster Care and Adoption Project at the Ackerman Institute. Helen teaches meditation at Nalanda Institute, the Community Meditation Center, and the Shantideva Center.
---
Date / Time:
Friday, January 24, 2020
10:00 am–4:00 pm
Continuing Education:
5 CE Contact Hours
---
Register Online:
We're sorry, but all tickets sales have ended because the event is expired.
Questions?
Visit our Workshop FAQ Page
.
---