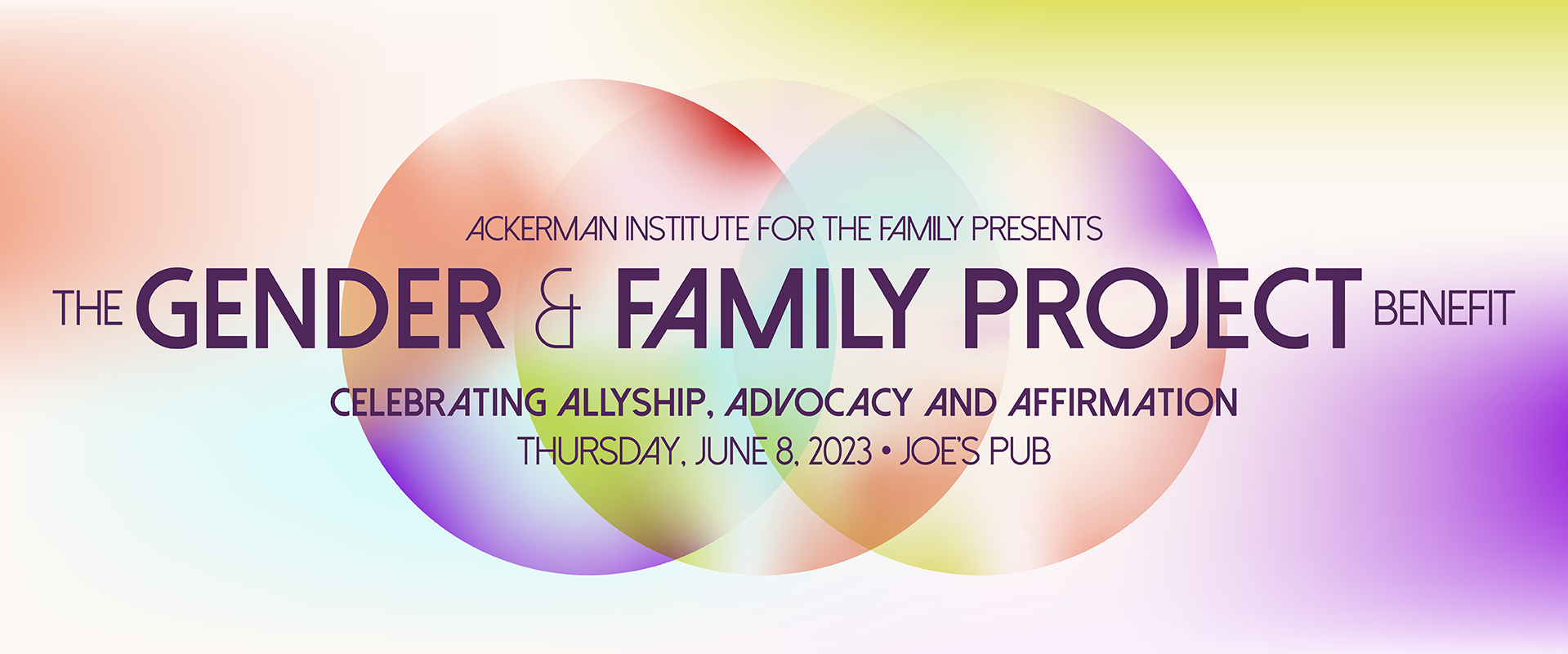 The Gender & Family Project Benefit Celebrating Allyship, Advocacy, and Affirmation
On behalf of our Co-Chairs, Alan Koenigsberg and Jodie Patterson, and our Honorary Chairs, Kelly Turlington Burns, Zackary Drucker, Gina Breuer Hadley, Pooya Mohseni, Jessie Randall, and Naomi Watts, please join us on Thursday, June 8, 2023 for cocktails, light fare, and a show in support of the Ackerman Institute's Gender & Family Project.
This new event hosted by actor, activist and trailblazer, Brian Michael Smith will honor award-winning author and activist, Raquel Willis. As part of Pride Month, the evening features performances by EHRIE, Krystofer Maison, and Tonewall A Cappella Ensemble of the New York City Gay Men's Chorus, and will raise critical funds for the Gender & Family Project's work supporting trans and gender expansive youth and their families.
For the first time, we will be presenting the GFP Champion Award to our 2023 honoree, Raquel Willis, in recognition of meaningful and significant contributions in support of the LGBTQIA+ community, especially our transgender and gender expansive children, youth, and their families.
The Gender & Family Project Benefit Celebrating Allyship, Advocacy, and Affirmation
Presented by the Ackerman Institute for the Family
2023 Honorees, Hosts and Performers

Raquel Willis
Award-winning Author and Activist
2023 GFP Champion Award Honoree
Raquel Willis is an award-winning author, activist, and media strategist dedicated to Black transgender liberation. She has held groundbreaking posts, including director of communications for Ms. Foundation for Women, executive editor of Out magazine, and national organizer for Transgender Law Center. She co-founded Transgender Week of Visibility and Action with civil rights attorney Chase Strangio and currently serves as an executive producer for iHeartMedia's Outspoken, the president of the Solutions Not Punishments Collaborative's executive board, and is a WNBA Social Justice Council member.
She published the GLAAD Media Award-winning "Trans Obituaries Project," and in 2022, she executive-produced and hosted "The Trans Youth Town Hall" with Logo. The work was nominated for the GLAAD Awards and won Gold distinction in the Webbys. Her writing has been published in Black Futures by Kimberly Drew and Jenna Wortham, Bulgari Magnifica: The Power Women Hold edited by Tina Leung, The Echoing Ida Collection edited by Kemi Alabi, Cynthia R. Greenlee, and Janna A. Zinzi, and Four Hundred Souls: A Community History of African America, 1619-2019 edited by Ibram X. Kendi and Keisha Blain. She has also written for Essence, Bitch, VICE, Buzzfeed, The Cut, and Vogue.
Raquel is a thought leader on gender, race, and intersectionality. She's experienced in online publications, organizing marginalized communities for social change, non-profit media strategy, and public speaking while using digital activism as a major tool of resistance and liberation. Her debut memoir, The Risk It Takes to Bloom: On Life and Liberation, will be released in October 2023 via St. Martin's Press.

Brian Michael Smith
Actor, Activist, and Trailblazer
2023 GFP Benefit Host
Brian Michael Smith has already made a name for himself in the world of entertainment and made history with his memorable performances.
Smith can currently be seen in the hit Ryan Murphy Fox series "9-1-1 LONE STAR" starring Rob Lowe. The series is a Texas spinoff of the hit series "9-1-1." Smith plays 'Paul Strickland,' a transgender male firefighter with a gift for observation worthy of Sherlock Holmes. He became the first out Black Trans man cast as series regular on broadcast TV. The series premiered in January of 2020, and is currently wrapping up its fourth season.
His previous television work includes recurring roles on Ava DuVernay's critically acclaimed hit series "Queen Sugar" on OWN; Showtime's drama series "The L Word: Q Generation", CBS's long running hit drama series "Blue Bloods" from 2014-2018, and in Showtime's award-winning drama series "Homeland," as well as guest roles in NBC's "Chicago P.D." and HBO's "Girls."
Smith, originally hailing from Michigan, is an LGBTQ+ advocate, coming out as transgender in 2017 after successfully working in the industry for five years. He has volunteered at the Manhattan LGBT+ Center, served on countless panels across the country and is currently serving on the boards of the Human Rights Campaign and OUTFEST.
Smith studied acting at Kent State University. Upon graduation, he began teaching drama and media literacy to teens until he moved to New York City to pursue a career in acting.
Smith currently resides in Los Angeles with his wife.

EHRIE
2023 GFP Benefit Performer
BROOKLYN NY, March 31 birth the twin sensations Kameo and Romeo aka "EHRIE". Relaxing at home during the winter of 1999, the twin brothers were watching music videos on BET, when Sammie's "I Like It" appeared on the screen. Inspired, the twins decided they wanted to become recording artists at the age of nine.
Fast forward to 2015 , EHRIE officially released their first two singles "Part Time Lover" and "Turn Up or Nah" a collaborative effort featuring Rappers Danny Bishop, Kush Caffrey and Ajani. In 2019 the twin brothers went on to release their first EP, "N****S FROM BROOKLYN". The lead singles  "Half Bad", "Let Go" and "Dangerous" were featured In Billboard Pride Queer Necessities playlist for August/November 2018 and September 2019 by Dj Jon Ali. Their song "Half Bad" was also featured on Spotify's editorial playlist, Fresh Finds: The Wave.
EHRIE is now gearing up to release their new single "Just Like That" this summer followed by their New EP "Guardians Of The Night".  In a time where LGBTQIA rights are being challenged, EHRIE decided to create an album that they would describe as a love letter to the queer community but is also a declaration of independence from those who seek to harm us. "Dare to dream, we deserve to love and it's time to fight," is the message EHRIE hopes to leave with their listeners. See you on the dance floor.

Krystofer Maison
2023 GFP Benefit Performer
Krystofer Maison, the Regal Rock Comedy Diva, (he/they) is an entertainer and songwriter based in New York City. He is a classically-trained singer with a love of the theater, which informs the drama and storytelling he brings to the stage. They are also majorly influenced by the androgynous rock icons of the '80s, the childhood soundtrack provided by their mother. Today, Krystofer's biggest influences include David Bowie, P!nk, Adele, and Lady Gaga.
Krystofer is known for his soaring range and precision vocal control, but moreover for his ability to program shows of rock, pop, and jazz to bring audiences on a memorable emotional journey. Unique to their style is the unabashed comedy between sets, ranging from traditional standup to improv moments with fans. They are comfortable performing in any venue, from a private cabaret party for 20 guests to a stadium of 40,000 — and are thoughtful about everything from song selection to glam to fit each appearance.
As a songwriter, Krystofer produced and released his EP Libera Me in 2021, featuring songs about the queer experience and self-acceptance. They are currently in development of their album CORONATION, from which they performed a preview of songs at the Triad Theater in New York in November of 2022, sponsored by Milk Makeup and Tito's. The alt-rock album is a love letter to Krystofer's mental health journey and living unapologetically yourself. Additionally, Krystofer wrote, performed, and produced "Fly", the signature song for the 2022 short film Blackbird, currently on an international festival tour.
Krystofer also has a career in brand partnerships and fundraising, and continues to work with Fortune 500 companies to support their work, other LGBTQ+ artists, inclusive nonprofits, and film and television projects. Through this and their art, they are an activist in the LGBTQ+, substance use, and mental health spaces.

Tonewall A Cappella Ensemble of the New York City Gay Men's Chorus
2023 GFP Benefit Performer
Tonewall is the super-charismatic queer a cappella band of the New York City Gay Men's Chorus. Tonewall plays a groundbreaking role in transforming the narrative by empowering underrepresented voices, providing them with visibility and acknowledgment in a domain that has historically lacked their presence. In 2018 Tonewall placed 2nd in the New England region at the International championship of A Cappella Open and won the award for Outstanding Choreography. Most recently, Tonewall hosted their own solo concert at Ramapo College in December 2022.
Sponsor & Ticket Reservations
Premier Benefit Show seating for twelve (12), top-line recognition and logo placement on print and digital Benefit materials.
Premier Benefit Show seating for six (6) and recognition on print and digital Benefit materials.
Premier Benefit Show seating for four (4) and recognition on print and digital Benefit materials.
Prime Benefit Show seating for four (4) and recognition on print and digital Benefit materials.
Preferred Benefit Show Seating for one (1) and recognition on print and digital Benefit materials.
Reserved Benefit Show Seating for one (1) and recognition on print and digital Benefit materials.
*$260 represents the good faith estimate of the value of goods and services to be received per person.
Chairs and Benefit Committee
Co-Chairs:
Alan S. Koenigsberg
Jodie Patterson
Honorary Chairs:
Kelly Turlington Burns
Zackary Drucker
Gina Breuer Hadley
Pooya Mohseni
Jessie Randall
Naomi Watts
Icons
Alan S. Koenigsberg and John A. Dotto
Spotlights
Kara Feifer and Serena Levy
Derrick T. Jordan
AMC Networks
Leslie Roberts
Tevia Segovia and Daniel Hong
VISA
Deborah Werner
Sparkles
Joseph D. Chianese
Alessandra Gouldner
Gina Breuer Hadley
Kate and Tom Hill
Jeremy and Sharon Matz
Gail Randall
Isabel Rose and Jeff Fagen
Naomi Watts
Rainbows 
Lois Braverman
Kelly Turlington Burns
Keith Butler
Rachel L. Coker
Martha Fling
Heather Leeds Greenfield
Victoria Kahn
Adi Loebl and Monica Altman
Adriana Londono
Jean Malpas
Michael Mouro
Teal Newland and Neil Vogel
Deirdre O'Neil and Shawn Colo
Jessie Randall
Barbara Rothberg, DSW
Robert C. Ruckh
Ira Sallen
Sarah J. Seidman
Tarun Sethi
Richard Sheehan
Sonya Shields
Paul Spivey and Evelyn Gonzalez
Janine Weisenbeck
Remy Zimmerman
Listing as of June 7, 2023