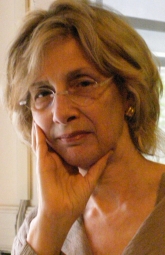 Marcia Sheinberg, LCSW, is Co-Director of Ackerman's Center for Children and Relational Trauma. She was the former Director of the Ackerman Institute Training Program (1995-2016). She is the founder and Director of the Institute's Interfamilial Sex Abuse Project and is co-author with Peter Fraenkel of The Relational Trauma of Incest: A Family-Based Approach to Treatment, (Guilford, 2000). Ms. Sheinberg was also a co-founder of Ackerman's Gender and Violence Project. An advisory editor for Family Process, Ms. Sheinberg has published widely in professional journals on the treatment of chronic illness in the family, the role of gender in relationships, the treatment of obsessional disorders, domestic violence, larger systems, incest, and clinical innovations in couples and family therapy.
She is an internationally recognized therapist and lecturer and regularly presents in Asia, Europe, Latin America, the U.S. and Canada. In 2004, she was the recipient of the AFTA Award for Distinguished Contribution to Family Therapy together with her colleagues Peter Fraenkel and Fiona True. Ms. Sheinberg has published several articles including "A Design for Interagency Collaboration in the Delivery of Services Following the Disclosure of Incest," Family Process (1995); "The Relational Trauma of Incest: An Integrated Family-Based Approach to Treatment," Guilford Publications (2000); "Loyalty Dilemmas," Family Matters (2000); "A Community of Grief," Psychotherapy Networker (2002); "Treating Family Relational Trauma: A Recursive Process Using a Decision Dialogue," Family Process (2008); "Thinking and Working Relationally: Interviewing and Constructing Hypotheses to Create Compassionate Understanding," Family Process (2014); and "Thinking and Doing" The Ackerman Relational Approach: A Training Manual" (2015).
Ms. Sheinberg maintains an active private practice where she treats individuals, couples, and families on a variety of issues, helping her clients navigate their relationship challenges toward a more gratifying life.
---
Short Conversations with Marcia Sheinberg
Loyalty Binds