Children and Relational Trauma
Overview
Co-Director: Marcia Sheinberg, LCSW
Co-Director: Fiona True, LCSW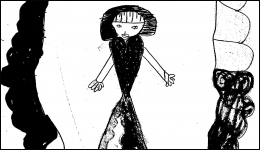 Ackerman Institute for the Family has long recognized the importance of the family as a major source of healing and resilience in overcoming trauma. Over the past 20 years, the Institute's Making Families Safe for Children Project has focused on the trauma of childhood sexual abuse, significantly changing the way sexual abuse is addressed by mental health professions, the courts, and others.
In 2004, Marcia Sheinberg and Fiona True, together with their colleague Peter Fraenkel, were the recipients of the AFTA Award for Distinguished Contribution to Family Therapy for their work in this project.
Following its extraordinary success in helping children and families deal with the trauma of sexual abuse, the Making Families Safe for Children Project has expanded and adapted its therapeutic treatment model to include children and families coping with other kinds of life-altering trauma, creating the Center for Children and Relational Trauma.
Relational trauma includes, but is not limited to family violence, sexual abuse, chronic illness, premature death, and family separation; all of which requires the involvement of the entire family if any therapeutic intervention is to be successful.
The consequences of these and other traumas can be profound and manifold. Many traumas endured by children—incest and domestic violence most notably—often recur in families across generations and especially require substantial therapeutic intervention to interrupt.
Therapeutic Approach
Recognizing the fact that relational trauma originates within the family itself, the Center's approach is a unique blend of individual and family therapy. Each element of the model contributes its own special insights and informs the other elements without violating the central issue of confidentiality. In this model, a child discussing an issue in individual counseling will be asked if the issue may be raised with the family. If the answer is yes, the discussion will continue with the family. If no, the therapist will go on to explore the reasons why (e.g. from shame, fear, or loyalty).
As a result of the Center's therapeutic model, children and families will:
develop stronger parent/child bonds
learn to talk openly and constructively about traumatic experience
participate appropriately in school and at work
respond to and increase empathy for one another's fears and pain
create and respect appropriate generational boundaries
interrupt intergenerational traumatic symptoms
Clients interested in the Center's Services should contact the Intake Department at 212-879-4900, ext 122.
---
Training
The Center uses its work to inform allied professionals, through community based trainings and presentations, about relational trauma and how to use this information to refine their responses to families in crisis. This training increases the capacity of clinical staff to recognize and respond effectively to relational trauma.
Trainings by the Center for Children and Relational Trauma Include:
ACS, Enhanced Prevention Training Seminar, James Satterwhite Academy
Bellevue Hospital, Psychiatric Social Work Division
Child Advocacy Program, Montefiore Hospital, Bronx, NY
Coalition Against Child Sexual Abuse, Nassau County
Coalition for Latino and Hispanic Families
Columbia University, Community Psychiatric Training Program: Residents and Fellows
Family Centers of Fairfield County, CT
Jewish Child Care Association, New York, NY
Mid Fairfield Child Guidance Clinic, Norwalk, CT
Orange County Mental Health Services, NY
Riverview Hospital, Middletown, CT
St. Vincent's Hospital, New York, NY
Stetson School, Barre, MA
Westchester Jewish Community Service
Kensington Consultation Center, London, England
Shinui Institute, Israel
Agencies interested in training should contact:
Fiona True, LCSW
212 879-4900, ext 312
ftrue@ackerman.org
---
Resources
Making Families Safe for Children: Handbook for a Family Centered Approach to Intrafamilial Child Sexual Abuse (CD-Rom)
Ackerman Institute's Making Families Safe for Children Project has developed, over the last fifteen years, a treatment model for families where incest is the presenting problem. One implicit goal of this project was the dissemination of the model to the larger mental health community. To achieve this goal a training manual was written outlining the treatment approach.
Ackerman Institute for the Family is proud to be able to provide this training manual, in the form of a CD-Rom, FREE to service center providers. Additionally, the Making Families Safe for Children Project has on-site training programs that compliment this manual.
The Relational Trauma of Incest: A Family-Based Approach to Treatment
Marcia Sheinberg, LCSW and Peter Fraenkel, PhD (Guilford Press)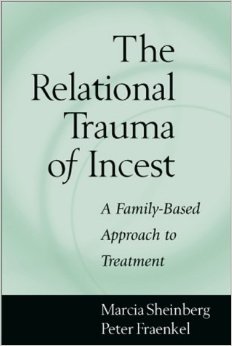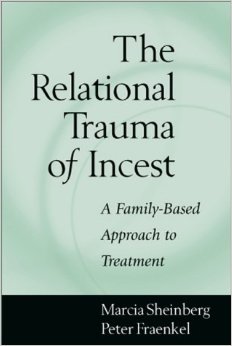 This book for clinicians presents an innovative approach to navigating the painful confusions and dilemmas experienced by families in which incest has occurred. The authors show that while not all incestuously abused children experience the classic diagnostic symptoms of trauma, virtually all do experience "relational trauma" disruptions in the sense of safety, security, loyalty, and trust that may block connection and open communication with nonoffending family members. Integrating social constructionist, feminist, and systems thinking, the treatment model focuses on strengthening the child's protective relationships, mobilizing the family to help resolve the child's emotional and behavioral symptoms, and building the family's resiliency.
Through rich, annotated cases, the book illustrates how to engage family members as full collaborators in treatment, thereby restoring their sense of control. The therapist is guided in conducting individual and conjoint sessions not only with nonoffending family members, but also with the offending family member. Key clinical challenges and decision points are highlighted, and ways to resolve them effectively are described. Included are detailed recommendations on when, how, and why to involve the offending member in sessions with the child.
Edited videotapes of family sessions are utilized at on-site trainings.
For more information, contact:
Fiona True, LCSW
212 879-4900, ext 312
ftrue@ackerman.org
---
Staff
Marcia Sheinberg, LCSW, Co-Director
Fiona True, LCSW, Co-Director
For more information, contact:
Fiona True, LCSW
212-879-4900, ext 312
ftrue@ackerman.org