Claudia Narváez-Meza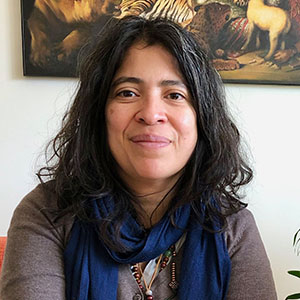 Claudia Narváez-Meza, MFA, LCSW is a graduate of the Ackerman Institute for the Family's Clinical Externship Program and Social Work & Diversity Program.
Claudia emerged from the Social Work and Diversity Program dedicated to a deep and ongoing inquiry into the relational patterns that we carry across generations, across intersections and across experiences. She credits Ackerman for helping lay the foundation from where she builds the therapeutic alliance – through the use of "location of self" and the narratives that arise in this process.
Claudia's early work was in community mental health and social justice. Prior to her private practice, she served as a trauma clinician for children in foster care. Claudia was also trained at the The William Alanson White Institute of Psychiatry, Psychoanalysis & Psychology. She has worked with the Ackerman Institute's Gender & Family Project, as a bilingual family therapist and group facilitator for families of trans and gender non-conforming children and adolescents. Claudia also completed The New York Zen Center for Contemplative Care – Foundations Program, where she trained in Buddhist-informed spiritual care and counsel for sick and dying patients and their families.
Claudia is excited to be back at Ackerman as a second-year externship supervisor. She is inspired and committed to giving back to the social work profession, and to upholding the promise and vital contributions of therapists of color.
A published writer and poet, Claudia received her MFA from Brooklyn College and her MSW from New York University. Claudia has a bicoastal private teletherapy practice in Los Angeles and New York.
---