Vice Chair of Board of Directors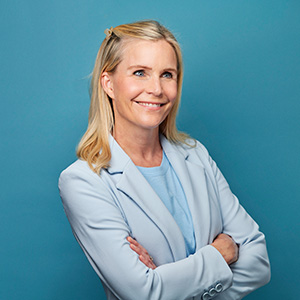 Imke Oster transitioned to the mental health field in the past decade, currently completing her training as a psychoanalyst. She is also working as an executive coach using psychoanalytic technique with high performing professionals and entrepreneurs.
Born and raised in Northern Germany, Imke has lived, traveled, and worked in several countries over the years, but is now settled in Montclair, NJ with her husband Benek and two daughters.
In her prior business career, Imke has led strategic management consulting projects (Monitor Deloitte), advised City Hall under Bloomberg on Green Economic Strategy (NYCEDC). She has also co-founded and sold a legal service company (LicenseLogix, now part of Wolters Kluwer) that has made the Inc. 500 list twice. Imke remains an active investor but spends her day-to-day with patients and clients.
Her interest in Ackerman arose from her focus on the early years of child development and the importance of a 'good enough' environment for children, especially in the pre-verbal years. Imke believes in the importance of in-person meetings in conjunction with online or telehealth sessions in the mental health field, especially in family therapy.
Imke graduated with a BSc in Economics from the University of London and a Master of Arts in Law in Diplomacy from The Fletcher School at Tufts, as well as an MBA from HEC, Paris, France. Besides a decade long psychoanalysis training through ACAP, NJ, she has also completed the Foundations Training program at Ackerman for the fundamentals of family therapy.
In her free time, Imke enjoys gardening (recently switched to only planting native plants), biking, rollerblading, skiing and yoga/Pilates.