Treasurer of the Board of Directors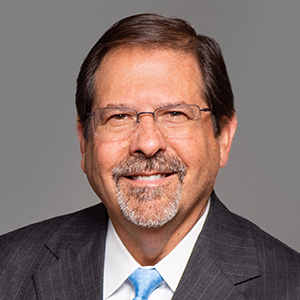 Bob Ruckh serves as the Treasurer of the Board of Directors of the Ackerman Institute for the Family and is a member of the Executive Committee.
He is a Managing Director in Alvarez and Marsal's Global Transaction Advisory Group and has over four decades of broad advisory experience working with private equity firms, their portfolio companies and Fortune 50 clients, providing merger and acquisition transaction services.
After a 39-year career in professional services, Mr. Ruckh retired from Ernst & Young in October 2021 as Senior Partner in the Strategy and Transactions practice and joined Brightstar Capital Partners, a middle market private equity firm focused on partnering with exceptional families, founders, entrepreneurs and management teams. At Brightstar, he was a Managing Director working with investment and fund professionals, as well as outside advisers, executing buy and sell-side transactions, onboarding of new portfolio companies and delivering value-creation strategies. Additionally, he was a board member and observer for several portfolio companies, as was as Chair of one of the portfolio company Audit Committees.
During his professional career, he led or had direct responsibility for nearly 1000 transactions, ranging from start-up and growth capital investments in founder and sponsor-owned businesses to multi-billion dollar, public and private cross-border M&A transactions, IPOs, financing transactions, recapitalizations, divestitures and carve-outs, as well as working capital mechanisms and disputes. He has led teams on the ground in over 20 countries and early in his career he had secondments in Northern and Eastern Europe. The range and complexity of assignments cross multiple sectors, including industrial and consumer products and services, retail, distribution, technology, healthcare, energy and infrastructure.
Mr. Ruckh graduated in 1982 with a B.S. in Accounting from Fordham University.