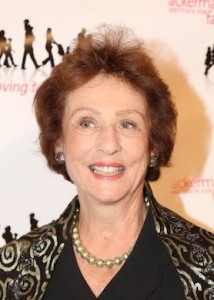 Linda Dishy joined the Ackerman Board of Trustees in 2000 and became Vice Chair of the Board in June 2008. Currently, she serves as Chair of the Nominating and Governance Committee.
Originally a teacher of French literature and language, Ms. Dishy began to transition into the field of family therapy in 1975. She received a Master's in Social Work from Columbia University with a concentration in family and children, and then enrolled at the Ackerman Institute's three-year Postgraduate Externship Program.
For over 20 years, Ms. Dishy served as a Clinical Instructor of Psychiatry at the Family Treatment Unit of NYU Bellevue Medical Center, and then at the Child and Adolescent Psychiatry Unit at the NYU Child Study Center. Concurrently, she maintained a private practice in which she treated individuals, couples, families and held group workshops.
In October, 2014, the Board of Directors honored Ms. Dishy with the Ackerman Distinguished Service Award at its eighth annual Moving Families Forward gala.